News
3/27/10
Second Annual Merle Haggard Birthday Celebration: April 11 at Oskar Blues, Lyons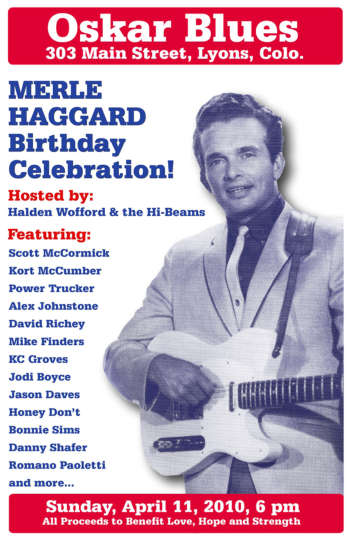 For as long as I've been playing music, my musical hero has been the great Merle Haggard. He's an icon of American music, a brilliant songwriter, singer, bandleader and musician, and I don't think anyone has ever been better.
To celebrate Merle's birthday, I've rounded up a bunch of my muscian friends and fellow fans, and we will be presenting a tribute to Merle by performing our favorite songs from his long career, at Oskar Blues in Lyons on April 11.
The Hi-Beams will perform as a backing band for most of the night. Featured performers include KC Groves (Uncle Earl), Scott McCormick (Boulder Acoustic Society), Alex Johnstone and Taylor Sims (Spring Creek Bluegrass Band), Mike Finders (Finders & Youngberg), Kort McCumber and many, many more. All of these performers play constantly throughout the Rocky Mountain Region and beyond, and they're all really, really good. It should be a great night of music.
Thanks to Casper Rawls for inspiring me to bring back this event in 2010. All proceeds from the event will benefit a charity called Love, Hope and Strength. The event will start at 6 pm and it will go late. Tickets are available at the door.
3/15/10
FoCoMX gigs April 9, 2010
FoCoMX is back!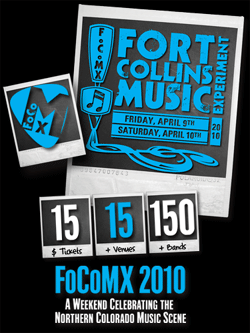 Last year, the FoCoMX Festival was one of my 2009 highlights. It's a celebration of the killer Northern Colorado music scene. Last year's festival was a huge success, and they've expanded it for 2010. If you care about local live music at all, you should spend the weekend checking out great local bands.
I've been playing music locally for nearly a decade now, and during that time Fort Collins has turned into a great music town.
This year I will be appearing with:
Friday, April 9, 9 pm
Power Trucker@The Vault
Friday, April 9, 10:45 pm
Power Trucker@Hodi's Half Note
Official festival web site: www.focomx.org
1/12/10
Skills Like This released on DVD
In 2006, the Hi-Beams were part of the first independent movie filmed in Denver. Skills Like This premiered at the South by Southwest Film Festival in Austin in 2007, and it won the Audience Award for Narrative Feature. There are three Hi-Beams songs on the soundtrack and we're in two scenes. The songs in the movie are "Road to Old Mexico," "Jealousy," and one we recorded just for the soundtrack called "Song For Dave."

We hope this reviewer was talking about us when she said "[Director Monty Miranda's] best creative choice was to populate the soundtrack with great indie bands that deserve some recognition. For that reason alone, it's no wonder the film was a hit with South by Southwest audiences."
Official Movie Web Site: www.skillslikethis.com
Review: movies.ign.com/articles/773/773656p1.html
Buy it at Amazon.com or rent/stream at www.netflix.com.